"Dev Patnaik's Wired to Care maps a path to innovation fueled by 'seeing the world with new eyes.' On numerous occasions, Dev and his colleagues at Jump helped us break through to those most critical insights." 
WHAT WE KNOW
We learned about empathy in business through our work as consultants with some of the world's most admired companies. In turn, Jump has helped some courageous leaders to create a widespread sense of empathy inside their organizations.
WHAT WE DO
Founded in 1998, Jump Associates is a growth strategy firm. We help courageous leaders create new businesses and reinvent existing ones through a hybrid approach integrating empathy, creativity, and strategy. Together, we define new growth platforms and reframe new competitive landscapes to reveal new sources of value. Visit us at Jumpassociates.com
HOW WE DO IT
Growth strategy requires us to draw upon a variety of disciplines. We use social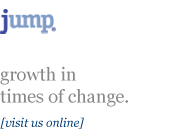 research techniques to reframe business problems in terms of what keeps ordinary folks in the world up at night. We use design methods to help companies connect with those people's lives through compelling new products and services. And we use strategic planning techniques to create actionable roadmaps for sustaining success over time.
WHO WE WORK WITH
There's an emerging breed of Chief Growth Officers in the business world who are chartered with the mission to figure out what's next for their organizations. These very brave (or very crazy) individuals have titles like VP of New Business, VP of Design, Chief Marketing Officer or VP of Growth and Innovation. Sometimes they're chartered with launching new ventures. Sometimes they oversee the new product pipeline. Other times, they're told to discover insights about people that no one else knows. We like to think that our clients share the mindset that there is a higher calling to business than just making money.
WHAT WE'VE DONE
Target wanted to transform its back-to-school sales from good to great in 2001. Jump identified a student's departure for college as a key moment that resonates with parents and students. Working with Target's design team, Jump created new product platforms that changed the face of the Back to School season. In the first year of the program, Target's third quarter sales grew 12 percent while competitors' sales remained flat or dropped. Target has outpaced its back-to-school competitors ever since.
GE Advanced Materials wanted to enter the plastic fibers business, a field where its primary competitor was well-entrenched. Jump interviewed manufacturers in the field, discovering an artisanal culture driven by collaboration. Jump created a strategy for collaboration between GE and manufacturers that helped the company avoid $1 billion in start-up costs and helped GE meet its five-year revenue target in just 18 months.
WHERE WE ARE
We're always glad to connect with like-minded people: folks who believe that things can be different. Jump has two offices, one in Northern California and one in New York. You can write, call or e-mail us at: